Home

Messageboards

FAQ

Guestbook

Links

Contact Form

About

Database
---
-New Item Database
-Item Catalog
-Dungeon Doom
-Spawning Rares
-Museums
-Quests
-Search Database

---


There are four tall candle spawns per day: Two in Trammel and two in Felucca. Both of the spawns are at the same location, and are simply just on different facets. The spawning location is in the dungeon of Covetous, on the third level in the large table room. The Coordinates are X: 1827 Y: 5580 (no sextant cordinates available).

Immediately at Server Up, 2 tall candles will spawn on this table in the picture below. The tall candles will spawn directly on top of the ones which are not moveable and can be picked up by anyone. There is no need for a thief, nor is there any need any special skills. Simply be the first person up and logged in, and grab the item off the table as quick as you can.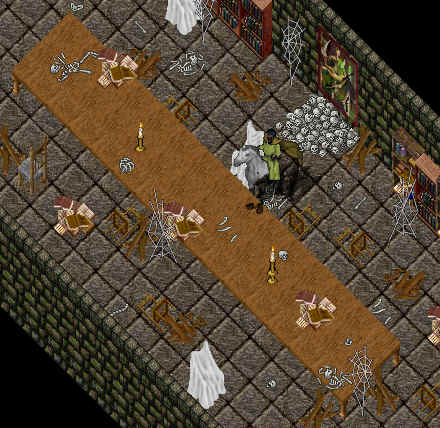 This site is maintained by Xanthar of the Museum, JC the Builder & UO Rares Staff
© 1999 - 2004 www.uorares.com
Disclaimer: Ultima Online, ORIGIN, and the Ultima Online and ORIGIN logos are trademarks of Electronic Arts Inc. Game content
and materials copyright 2003 Electronic Arts Inc. All rights reserved.