Home

Messageboards

FAQ

Guestbook

Links

Contact Form

About

Database
---
-New Item Database
-Item Catalog
-Dungeon Doom
-Spawning Rares
-Museums
-Quests
-Search Database

---
Lord Vincent Storm plays "Golden One" on Catskills a.k.a. "Shard Trader" or Lord Vincent Storm. Below is several pictures of his current museum. It is private and usually on an invitation viewing only - but wants everyone to view the insides. He is also willing to give personal tours for those interested in his wonderful museum. If thou are interested please icq him at 102966442.
The Lord Vincent Storm Museum and Private Home is located on the Ice Isle, it is directly SE corner of the Honesty Shrine and the mountains.

Above images shows the first floor of the main hall which is decorated with the most recent sets of gifts. A full set of snow globes and a full set of bells including a white one.

Below is the east 2nd Floor hallway. The opened bags show more sets of items that include pre-patched weapons of power and even pre-patched silver of power.


Here is the west 2nd Floor hallway. It displays a set of Daemon Armor, green and red dyed Ranger Armor, sets of Valorite, Verite, Shadow, and Gold [exceptional] gm marked armors.


Here is the garden decorated by whispering roses, a fruit basket, water buckets. On this pic, you can also see my sets of potted plants as well as the aquarium which is still under construction.


Here is the kitchen. It consist of many of the semi rare food, a big fish, a bushel, and a dirty pan.


Here is the mage room. A set of all 10 different color "a scroll", necro reags, dragons blood, and cards.


Here is the smith room. Semi's to what I believe would be a good rare [exceptional] gm marked shields.


Here is the rooftop. Still under construction but you can pretty much get the idea.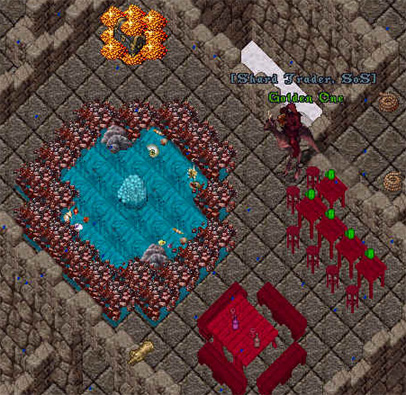 Here is the tinker room. The most interesting item in here is the animated lantern and of course, the semis.


This site is maintained by Xanthar of the Museum, JC the Builder & UO Rares Staff
© 1999 - 2004 www.uorares.com
Disclaimer: Ultima Online, ORIGIN, and the Ultima Online and ORIGIN logos are trademarks of Electronic Arts Inc. Game content
and materials copyright 2003 Electronic Arts Inc. All rights reserved.