Home

Messageboards

FAQ

Guestbook

Links

Contact Form

About

Database
---
-New Item Database
-Item Catalog
-Dungeon Doom
-Spawning Rares
-Museums
-Quests
-Search Database

---
Pig's Head & Feet



The Origin of the Pig's Head is unknown. Most signs point towards these being server birth items, but there is also a chance that these were created for various quests. The was a confirmed Pig's Head owned by Gawain (Atlantic Shard), but was lost due to the barrel bug. The barrel bug was a small amount of time when closed barrels would disappear taking all items with them for no apparent reason. Unfortunetly, Atlantic lost this item when a barrel disappeared. I have not seen another Pig's Head on atlantic since this loss. Just recently, a set of Pig's Feet surfaced on atlantic and are now on display in the Wintermoor collection. These items can be locked down on display, but cannot be eaten.

Values:
Pig's Head,
Facing West

10 Million Gold

Pig's Head,
Facing East

10 Million Gold

Pig's Feet,
Facing West

4 Million Gold

Pig's Feet,
Facing East

4 Million Gold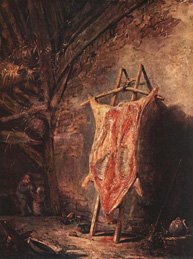 This site is maintained by Xanthar of the Museum, JC the Builder & UO Rares Staff
© 1999 - 2004 www.uorares.com
Disclaimer: Ultima Online, ORIGIN, and the Ultima Online and ORIGIN logos are trademarks of Electronic Arts Inc. Game content
and materials copyright 2003 Electronic Arts Inc. All rights reserved.